The high tourist seasons of Japan are from early March to mid-May, and from early October to late November. These are the season for the famous sakura (cherry blossoms) and kyo-nishiki (red maples leaves) viewings. Low seasons of Japan include two months of summer, and particularly the months of December, January and February making winter undoubtedly the least-visited season of the year for tourists.
What Are Onsens?
So what is an onsen? In Japanese Onsen literally means 'hot water spring'. And they're just that! Onsens are natural hot spring baths which are constantly warmed by Japan's plentiful volcanic activity. To make an onsen official it must have one of nineteen chemicals that are naturally found in hot spring water AND must be at least 25 degrees Celsius. How's that for steaming?! Onsens are arguably better for you than jacuzzi's because they are kept clean and contain these chemical elements to help clean the skin.
They're peaceful, relaxing and oh so beautiful. Japanese onsen are a part of Japanese culture that you will fall in love with instantly. Public baths may seem daunting but once you try it, you'll miss it as soon as you leave. You can have indoor Onsens (which are not the same as sento public baths) or outdoor onsens (Rotenburo) – or a combination of both!
Onsens do follow a strict rule though. Most public Onsens are separated by sex. Males and Females cannot bathe together – so please take this into account. You may want to visit a mixed sex onsen. And as the name would suggest, you must be in your birthday suit to enjoy the onsen. Read the proper etiquette for Onsens here.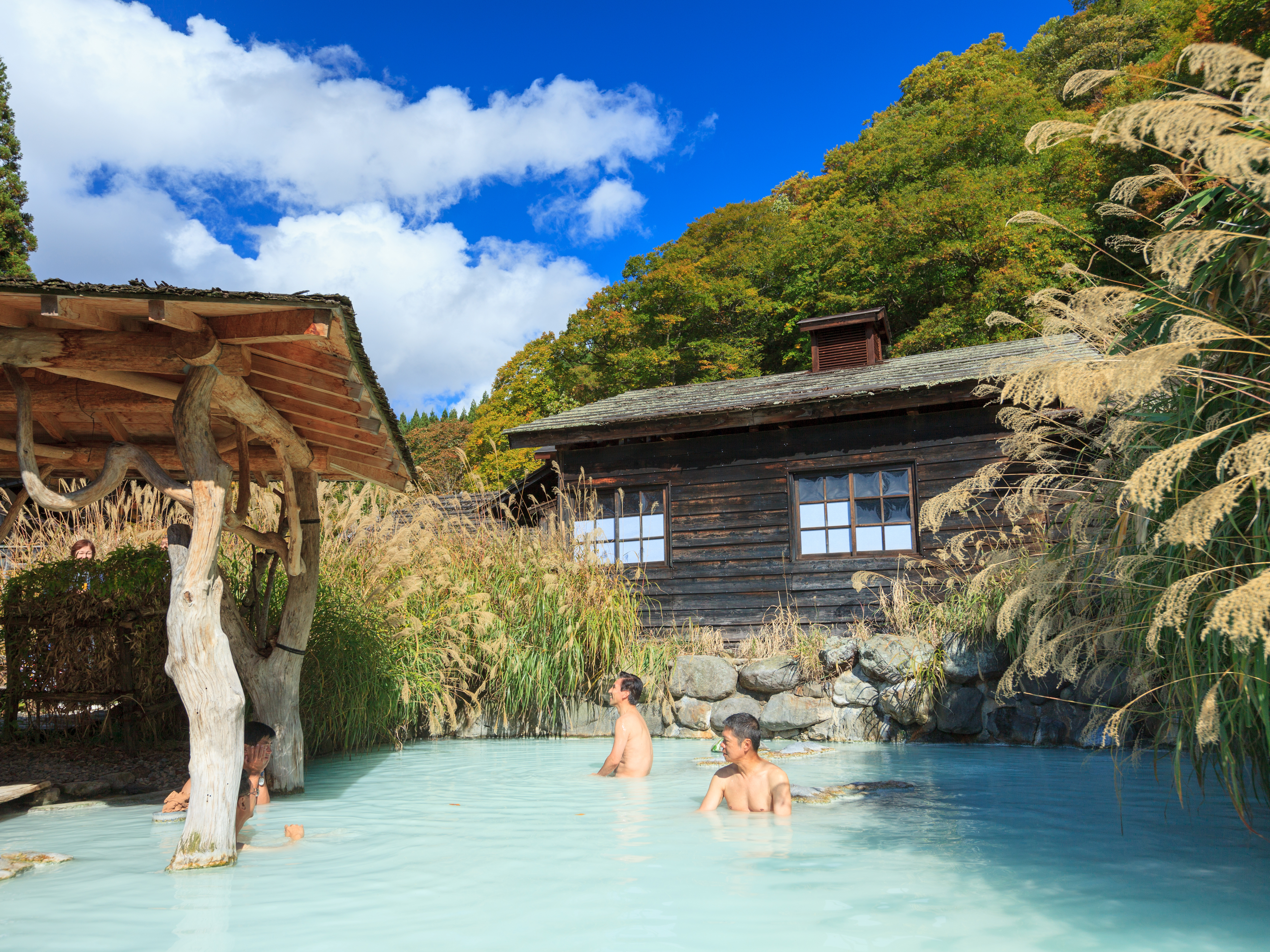 So, what are some of the benefits of experiencing Japanese onsens during the off-season?
Accommodation and Budget:
Many outdoor onsens are far in the mountains due to the natural volcanic activity. Not all can be done as day trips so you may want to stay overnight. By travelling low season, you will be able to sleep peacefully and enjoy Japanese culture in a traditional Japanese inn called ryokan. Usually, these are all booked up well in advance so best to book early.
Less Crowding:
Japanese Onsens are usually public, meaning you'll have to get naked with other people. But don't fret – no-one will be looking.  However, if you are conscious of this, less crowds may help your nerves. With fewer people, you will have quieter relaxation time and time to reflect and maybe even practice mindfulness.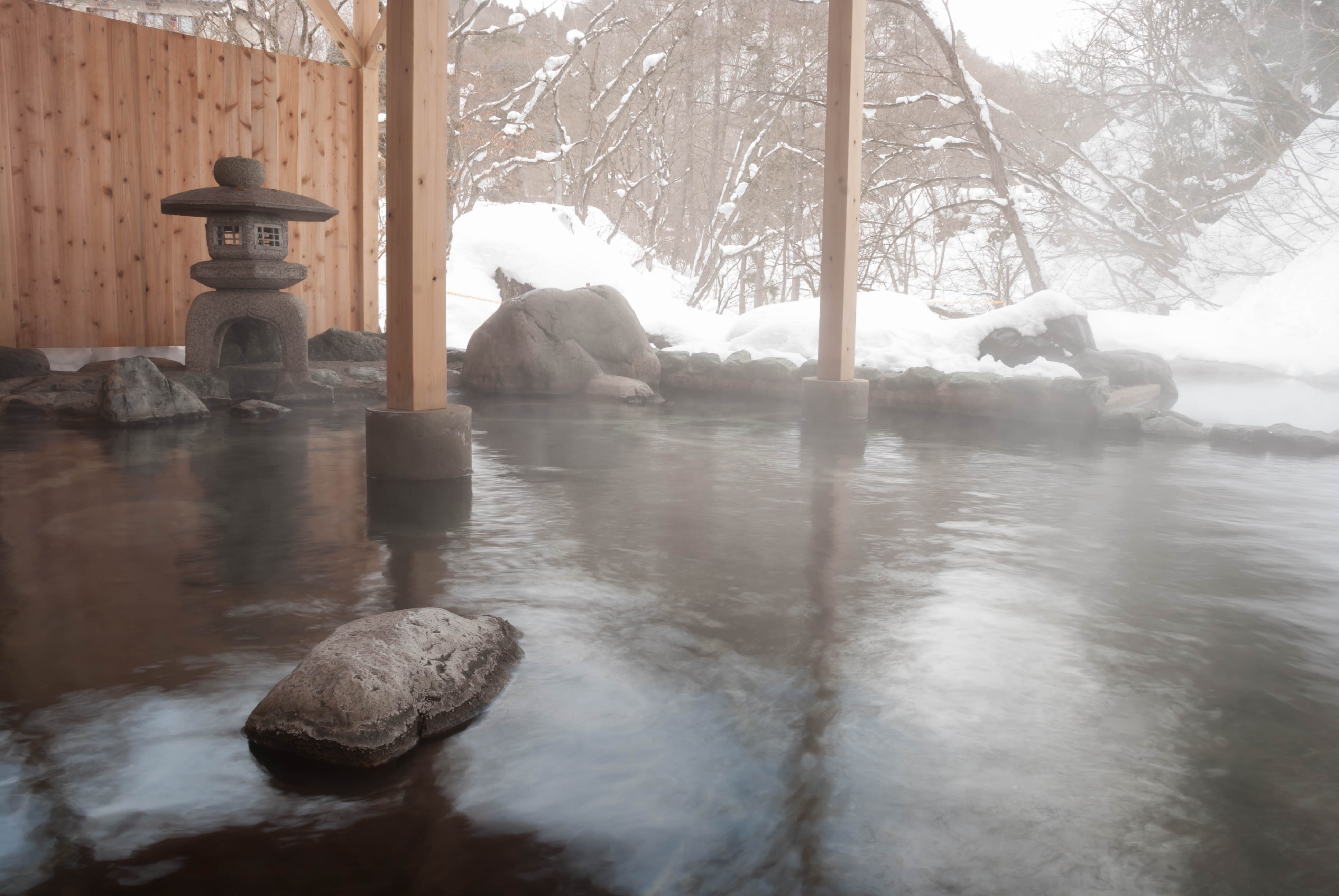 Onsen to visit
We've put together a list of onsens that are a must to visit during your time in Japan. Winter makes the experience even more memorable. Enjoy the unique experience of taking a bath amid the snow and bask in Japanese tradition and culture.
 Kinosaki is a small town with a wonderful community. It has river lined with willow trees, old fashioned ryokan, and an air of nostalgia. No wonder why it was voted "best hot spring town" by Lonely Planet. Kinosaki has tourist shops where you can buy Japanese Yuzu honey, fresh seafood (it's known for it's crab croquettes!) and it's humble residents. If you have time you can also visit the sanctuary for the endangered oriental stork which is conveniently located nearby.
You can buy a ticket which permits you entry into all seven baths which is very cost-effective. And what's more, you only have to shower once before entering each bath as 7 lather, rinse and repeats can get a bit tiring!
 Lake Kawaguchiko is located at the base of the iconic Mount Fuji. A number of bath houses and ryokan offer indoor and outdoor bathing. The area is most scenic during the spring cherry blossom season and autumn koyo, or leaf viewing, season but few visit in the winter. What could be better than a snowy Mt. Fuji? In addition to the public baths, there are also 3 reservable bathes with natural onsen (which are only available to overnight guests). Which means you can enjoy private time with a partner.
In the warmer evenings, stroll the narrow lanes in your yukata robe and geta wooden sandals, going from bath to bath or bar to bar. Or enjoy wonderfully exquisite traditional Japanese cuisine as room service if staying in the hotel itself. If you do decide to take a trip; a panorama shot of Kawaguchiko, scenic mountains and Mount Fuji can be seen from the roof terrace.
Make sure to try some of the local sake too!
 If you've seen photos of Japan, you're bound to have seen monkey's bathing in a hot spring. These picturesque views belong to Shibu Onsen.
 Wander through a thousand years of history
Shibu Onsen's history is said to go back over 1,000 years. It has long been a rest stop for pilgrims making their way to Zenkoji Temple in Nagano City . The cobblestone streets lined with traditional wooden Japanese inns and dotted with shrines offer you the atmosphere of another era.
Do some onsen hopping and try all nine public baths for good luck! You can also collect commemorative stamps along the way.
To see the monkeys it's only a short walk to Jigokudani Yaen-koen (Monkey Park).
 Why not visit one of the oldest hot springs in the country? Legend has it that a tengu (demon of Japanese folklore) discovered the site of Kita Onsen 1,200 years ago. Though the area is less snowy, allow yourself to be transported by its history and the charm of the Meiji era. If you're enthralled by thrillers, mystery and ghosts – you need to go!
How To Get There
If you have a JR Pass all onsens are very easy to get to. Japan has a world-renowned public transport infrastructure. Japan doesn't really have off-peak discounts but as a visitor, a JR Pass is the best ticket you can get to travel. Read about the JR pass here.