Contact us to reserve your place today
Sunday 28 May – Sunday 4th June 2023 – €1,495 (approx. £1,250)
(Includes €100 donation to the Pays de l'Ours ADET a not for profit association who're a key player in the programme for the reintroduction of the bears in the Pyrenees. You can read all about their mission here. (Use iTools to translate the website)
8 places available
Along with our friends at
The Adventure Creators
, we have created a wonderful 7 Day Adventure in the majestic Pyrenees Mountains in the heart of the 'low season' which offers the very best way to experience this stunning part of rural France.  Get ready for a superb immersion journey with your very own personal and knowledgeable guide who will be with you every step of the way from arrival into the region until the day you depart.
On this exclusive and immersive journey, we invite you to join Penny, the Founder of The Adventure Creators along with up to 7 other dedicated low season travellers like you, to get right off the beaten track and into the heart of rural Pyrenees life and nature. We will enjoy the sights, sounds and smells of the mountains with the best possible local companions who will show you their region, wildlife, cuisine and traditions with all their pride and passion.  You won't be merely "visiting" or "touring" a destination; you'll be immersing yourself fully into the Pyrenees way of life and departing with a thorough understanding of the culture, nature, traditions and people in this beautiful part of France. Oh, and you might just make some new lifelong friends along the way too…
As this is a very small group tour, it has all of the advantages of an intimate travel experience.  Penny knows this region and it's people like the back of her hand  – the experiences below are all with her friends in the community.  And Penny will be with you throughout to help ensure you get the very most out of the experience.  When you enquire bout this tour using the links above, you will get straight through to Penny.  No call centres of intermediaries, a truly personal approach in every regard to make memories of a lifetime…
WHAT CAN YOU EXPECT?
A deep dive into the heart of life in the French Pyrenees
Meet fascinating local personalities and learn about their traditional way of life
Experience the very best Pyrenean gastronomy
Meet local producers on their farms and taste local specialities
Learn about the rich and fascinating history of the Pyrenees mountains
Visit some incredible Romanesque churches in mountainside hamlets
The journey is based on 2 people sharing a twin or double room.
Exclusive use of the 5 bedroomed B&B
IMPORTANT: We have created this tour and your booking will be with, our good friend Penny Walker and her team at The Adventure Creators.  Travelling with The Adventure Creators means that you can be assured that the money you are paying goes directly into the local economy and because this tour runs during the low season period, it means that the local economy is getting a much needed boost at a time when there are fewer tourists.  This is even more appreciated after an unbelievably hard 2 years without tourism in the region..  You can be assured of a genuinely warm welcome from the communities we visit and not only will you save up to £295 by travelling in the low season, but also, we will donate €100 on your behalf to the Pays de l'Ours ADET a not for profit association who are playing a vital role in the programme for the reintroduction of bears in the Pyrenees. You can read all about their mission here. (Use iTools to translate the website) and you will see the difference your money will make during our tour.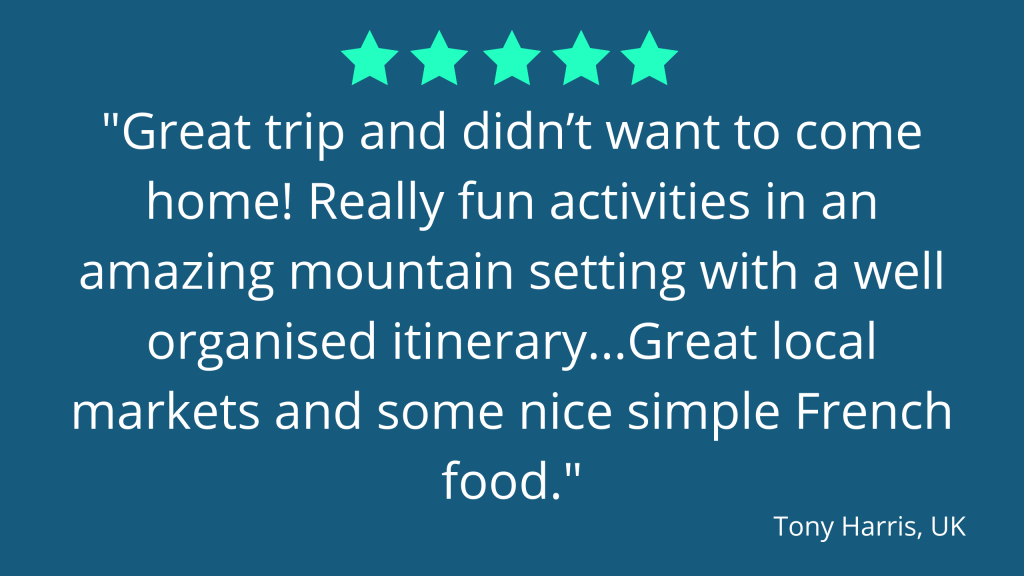 DAY 1:
Bienvenue!
ARRIVAL INTO LANNEMEZAN
After arriving at either Toulouse Airport, Toulouse Rail Station or Lennemezan Rail Station, you will be greeted by Penny (your very own personal guide for the week ahead).  Penny will escort you to your base for the week, a delightful warm and welcoming guest house in the beautiful Aure Valley, overlooked by some of the spectacular high mountains of the Pyrenees.
You'll be well looked after by your hosts, Evelyne and Alain, who will treat you to the first of many delicious home-cooked evening meals created using fresh, seasonal, local products.
Included:
Meet and greet Toulouse airport or main rail station
Private transfer to the guest house
Night in a twin/double en suite room at les Helianthèmes (the base for the entire trip)
3 course evening meal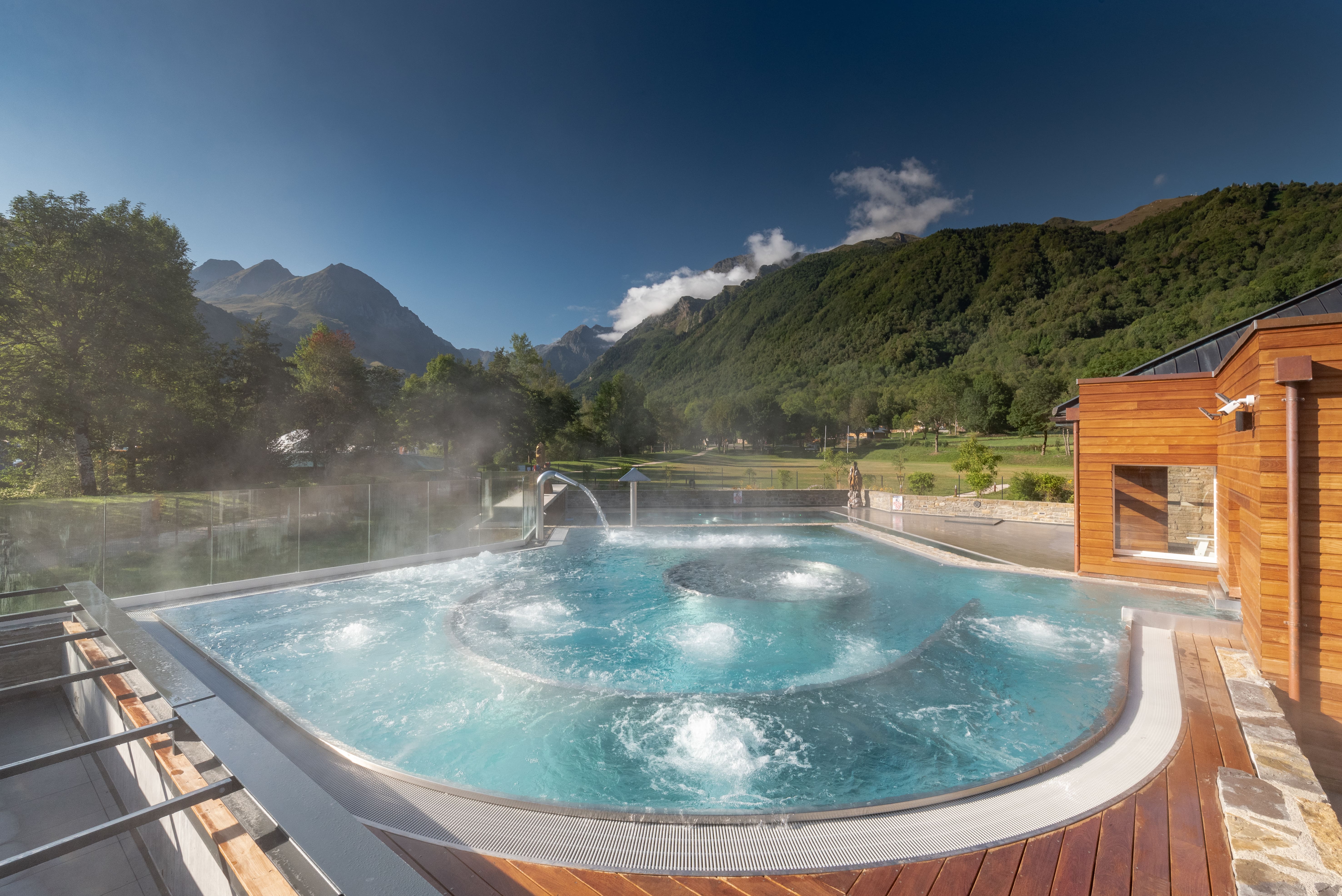 DAY 2:
MARMOTS, MOHAIR AND CHEESE
This morning you'll have the opportunity to see some of the rich wildlife for which the unspoiled Pyrenees mountains are known.
A local wildlife guide will accompany us on an easy walk in the mountains where we'll see marmots and maybe even the rarest vulture in Europe, the bearded vulture, soaring in the skies above us! If we're very lucky, we may even see some isards or mountain goats which scamper across the rocky mountainsides.
After a superb lunch we're off to visit a mohair producer who raises Mohair goats on the mountainside and transforms their wool into fabulous items that are sold in her shop.
Included:
Breakfast
Guide and support team
Local transfers
Easy walk to see local wildlife
Visit Mohair producer
3 course evening meal
Night in a twin/double en suite room
 DAY 3:
HISTORY, CULTURE AND THERMAL SPAS
The Pyrenees mountains are an area of rich culture and heritage. The mountainside villages are dotted with little Romanesque churches which date back to the 11th and 12th centuries. The painted frescos, sculptures and architectural features give a fascinating insight into life in these mountains in days gone by.
This morning, our expert local guide will accompany us on visits to some of these churches in the beautiful Louron Valley.
After lunch at a traditional eatery in the valley we will experience Balnéa, one of the best thermal spa facilities in the Pyrenees on a 2h session in the geothermally heated pools.
The discovery of the culture of the area continues in the evening with an atmospheric short walk at dusk through the woodland below the Col de Peyresourde where we may well come across red deer roaming.
We'll be heading to a hut where a fun evening awaits, with food in the form of a fondue made from local cheeses and entertained provided by local musicians playing traditional music and singing traditional songs.
Included
Breakfast
Guide and support team
Local transfers
Visits to Romanesque churches
Visit to the thermal pools of the Balnea spa facility
Pyrenees music and song evening with fondue dinner
 DAY 4:
A SHEPHERD'S LIFE AND BLACK PIGS 
The Pyrenees mountains are renowned for their farming and pastoral traditions and this morning we're going to experience it in real life.
This morning, we'll meet a local shepherd who will be preparing to take his flock of sheep back up to their summer pastures in the high mountains in a couple of weeks time.
From his farm in the valley, we'll go on a short walk with the flock and talk with him about his life caring for the sheep and how he copes with life in the mountains in the summer months. We'll have the chance to taste and buy some of his delicious cheeses on his farm too.
Included
Breakfast
Guide and support team
Local transfers
Encounter with a local shepherd and walk with the flock
Cheese tastings
3 course evening meal
Night in a twin/double en suite room
 DAY 5:
MARKET VISIT
This morning, Penny will take us to the fabulous market in the Medieval town of Arreau in the Aure valley where we'll meet some of her favourite local producers.
You'll discover regional wine and beer, more cheeses and charcuterie, traditional gâteau à la broche, the muffin-like 'Tourte des Pyrénées' plus locally made soaps and items hand-carved from local wood.
After lunch in a restaurant alongside the river, we'll head back up the Aure Valley to Vignec where we'll learn about the black 'Noir de Bigorre' pigs that are raised locally and from which some of the most delicious hams and charcuterie are produced.
Included
Breakfast
Guide and support team
Local transfers
Guided visit to the market in the old streets of medieval Arreau
Discover the native black 'Noir de Bigorre' pigs and have charcuterie tastings
(possible 5pm visit to the goats farm, see milking and sample cheeses)
3 course evening meal
Night in a twin/double en suite room
 DAY 6:
BROWN BEARS, BEER AND HONEY
It's an early start this morning as we head over to Luchon to meet local bear expert, Adrien, who works for the Pays de l'Ours ADET association who we are supporting on this trip.
He will take us on an easy local walk from the beautiful Hospice de France in the high mountains to look for signs of the bears' presence in an area that they are known to frequent.
We'll look for their tracks on the ground, for fur on their favourite rubbing trees and will check motion detection cameras to see if they've been captured on video.
Adrien will tell us about the reintroduction programme and what measures are being taken to enable the bears' peaceful cohabitation with man in the Pyrenees. They're a controversial and divisive topic, for sure!
After lunch in Luchon we'll visit a superb little micro brewery and find out what difference the mineral rich waters of the Pyrenees make to the flavour of the local beer.  We'll also visit a honey producer down the valley where you'll be amazed at the variety of flavours of honey that are produced from the rich and varied blossoms in this part of the Pyrenees!
Included
Breakfast
Guide and support team
Local transfers
A fascinating morning with the brown bear expert and walk in bear territory
Learn about the reintroduction programme of brown bears in the Pyrenees
Visit to a micro brewery in Luchon for beer tastings
Visit honey producer to discover the range of honeys produced by the bees in the area
3 course evening meal
Night in a twin/double en suite room
 DAY 7:
CHOCOLATE, CAVES AND SAINT-BERTRAND-DE-COMMINGES
This morning we'll head down the valley to meet a master chocolate maker whose imaginative creations will amaze you! We'll enjoy tastings and you'll have the opportunity to purchase chocolate gifts to take home.
We'll then go on to visit the Grottes de Gargas Prehistoric caves where we'll see some incredible hand stencils and cave paintings made by prehistoric man around 27,000 years ago. A thought-provoking visit, indeed!
After lunch at a fabulous restaurant we'll spend an hour or two at the Medieval UNESCO registered village of Saint-Bertrand-de-Comminges, listed as one of the most beautiful villages in France. We'll visit the basilica with its huge organ and marvel at the extensive wooden carvings that adorn the central section.
We can visit the leather worker in the village who creates some exceptional items including handbags and belts.
Included
Breakfast
Guide and support team
Local transfers
Visit to a master chocolate maker for chocolate tastings
Discovery of the Prehistoric hand stencils and cave paintings at the Grottes de Gargas
Visit to UNESCO registered Saint-Bertrand-de-Comminges
Meet the leather worker and buy gifts to take home
3 course evening meal
Night in a twin/double en suite room
 DAY 8:
DEPARTURE DAY
It's a sad day today as it's time to leave the beautiful Pyrenees after what has been a fascinating and thought-provoking week.
Note – lunches are not included in the price. Expect to pay around 20€ per person. We'll make restaurant reservations each day.
Included:
Breakfast
Transfer back to Toulouse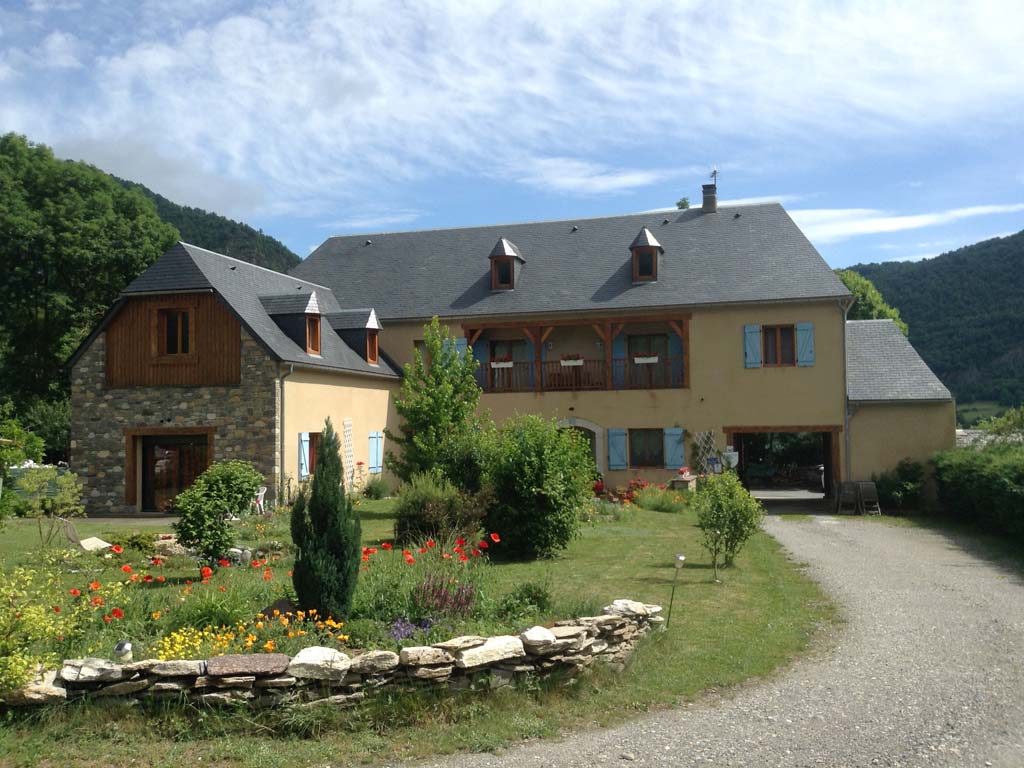 Flights/Travel to/from Lannemezan/Toulouse
Others Meals and drinks where not included above.
All items not mentioned in " Included"
How To Get There: There are a number of ways of getting to Lannemezan or Toulouse.  Naturally, we recommend going by rail as it's efficient, you see more, it's more relaxed and let's face it, we all know that it's a more environmentally friendly form of transport.  You can also fly to Toulouse Airport and Penny will meet you there too – we won't hold it against you…  We recommend that you use Kiwi or SkyScanner to establish the best way to get to Toulouse.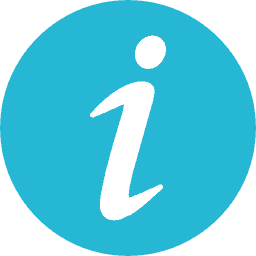 Low Season Savings of Up To £295pp Versus Peak Months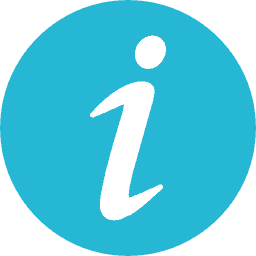 Dates: Sunday 28th May – Sunday 4th June 2023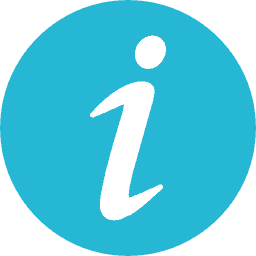 Duration:   7 days
* Or similar standard hotel should this option be unavailable for any reason including issues connected with Covid19
Listen to Penny in the podcast below which we recorded recently to learn more about what makes this tour and the travel with Adventure Creators so special.