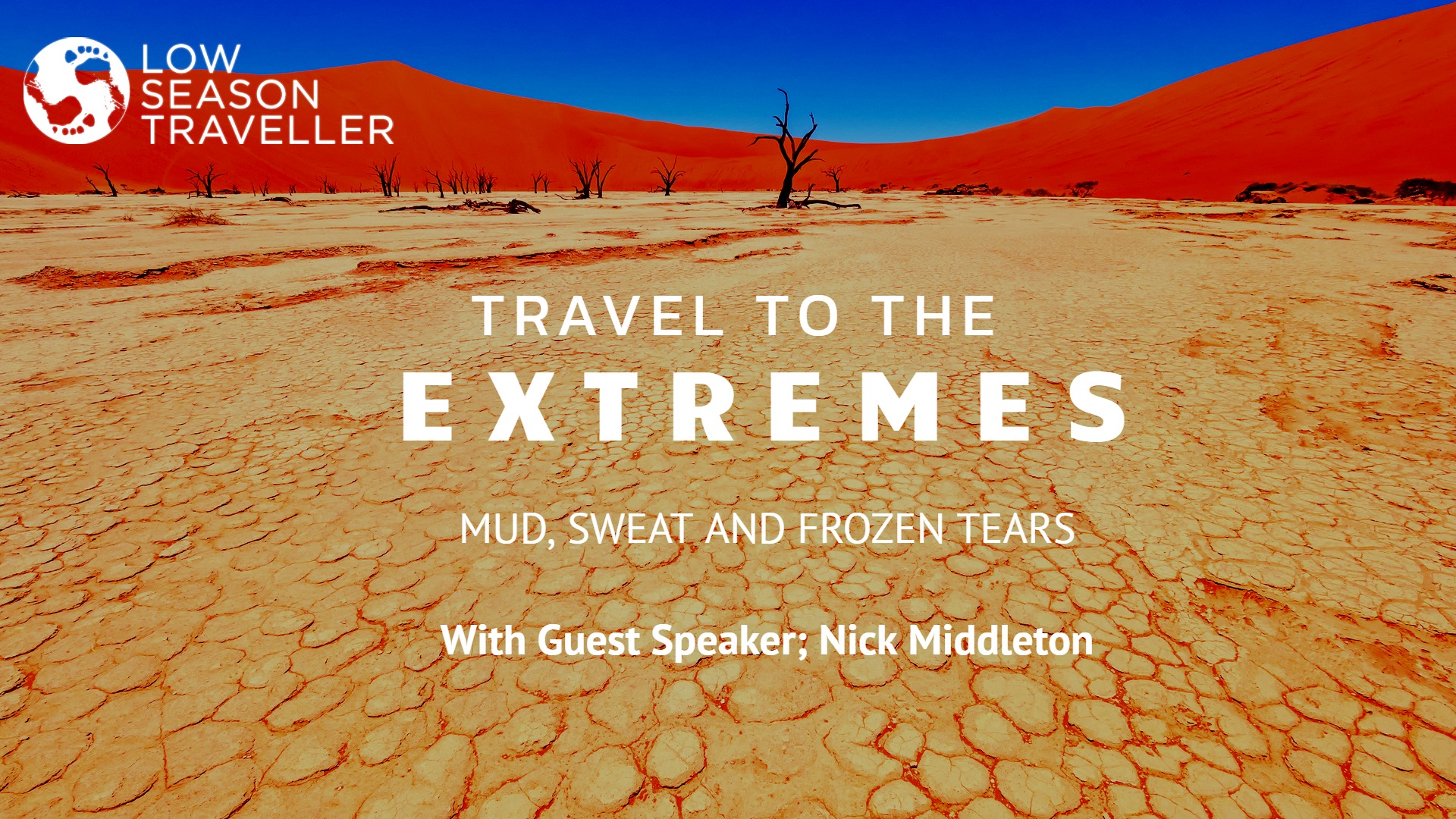 Subscribe to our YouTube Channel
We speak to Geographer and travel writer, Nick Middleton, who wrote Going To Extremes, a journal of his travels to the world's hottest, coldest, driest and wettest inhabited places on earth. This was subsequently made into a fascinating and entertaining documentary which aired on Channel 4 and the National Geographic Channel. Essentially, Nick is the world's most extreme low season traveller…
In this episode we will talk to Nick about his experiences during his travels and we learn what life is really like when we take the road less travelled.
Nick Middleton:
Nick is an award-winning geographer, writer, TV presenter, environmental scientist and university lecturer. His curiosity about how planet Earth works and how people interact with it was fuelled from an early age by his family's world atlas, Herge's Adventures of Tintin and an endless flow of Willard Price novels. Today he works and communicates on a wide variety of environmental issues and travel topics for a broad range of audiences, from government policy-makers to primary-school children. He also teaches at the University of Oxford where he is a Fellow of St Anne's College.
Nick is a prolific and renowned author of many books and topics including three books on the environment, four Research & Consulting Books (a body of specialist work focusing on deserts and semi-deserts, and particularly on how people interact with them) and seven travel books including:
• Extremes along the Silk Road: Adventures Off the World's Oldest Superhighway
• Surviving Extremes: Ice, Jungle, Sand and Swamp
• The Last Disco in Outer Mongolia
• Kalashnikovs and Zombie Cucumbers: Travels in Mozambique
• Travels as a Brussels Scout: A grand tour of Europe
• Ice Tea and Elvis: A Saunter through the Southern States
• An Atlas of Countries that Don't Exist: A Compendium of Fifty Unrecognized and Largely Unnoticed States
Nick also wrote the International Bestseller Going to Extremes, which accompanied a television series he wrote and presented for Channel 4 and the National Geographic Channel on extreme environments and the people who live in them. His TV documentaries have been broadcast all over the world and his books translated into more than a dozen languages.
(The copyright for all photos shown below remains with, and have been reproduced with the kind permission of, Nick Middleton)